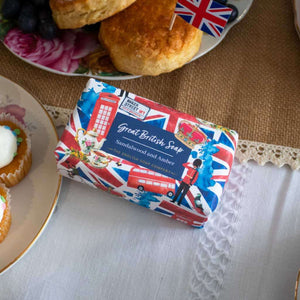 Sandalwood & Amber Great British Soap

Celebrate British culture with a luxurious soap bar wrapped in whimsical packaging that pays homage to our nation's traditions. The paper wrap is decorated with iconic red telephone boxes, our famous big red buses, regal crowns, beefeaters and would it even be English without a nice cup of tea? 
This vegan friendly, luxury soap bar made using pure vegetable oils is enriched with shea butter to keep skin feeling nourished.  
The Sandalwood and Amber Great British Soap is fragranced with warm sandalwood and a touch of pepper, creating a rich but spicy scent. A heart of pine, orange flower, cedarwood and clove balances the fragrance against a base of dry amber, tobacco and musks.  
190g soap bars