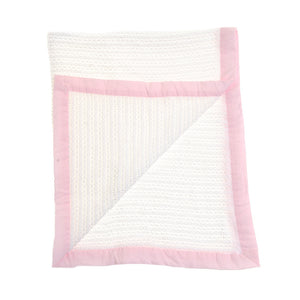 Baby blanket.
Our award winning cellular blanket is an all year round winner. The blanket's open cellular construction allows airflow to keep your little one warm in the winter and cool in the summer. Designed with a sleek, modern look our blanket comes in pure white with a soft pink trim and packaged in our Ziggle ribbon. This blanket is a must have parents with little ones!
This soft pink cellular blanket is an absolute parent must have!
Award winning – We won gold at Mumii's 2018 awards for 'Best New Product For Baby'.
Fashionable colours and classic design.
Open cellular construction allows air flow to keep babies warm in the winter and cool in the summer.
Super soft 100% combed cotton knitted blanket.
Lightweight.
Great size 90cm x 70cm for babies to be snuggled in.
Ideal for prams while out and about.
Great size for cots or around the house snoozes.
A simple modern design.
Also available in grey and blue.
Packaged rolled up and tied with tasteful Ziggle ribbon and tag which allows for a perfect gift too!